Summer is coming in China. With the weather becomes hotter, our appetite will be influenced by feelings of the environment. Honey stomach when in good mood, while loss of appetite when in bad mood. Well, Why not decorate our dining room in case of inappetence? However, how to decorate? It is easy to do – one piece of table cloth is ready to win your heart.
Now, follow me and have a look at the examples that how they change the scene on table!
Bright colors help appetite.
Table cloth should be usually in bright and lively colors, such as orange, etc. Orange has exciting appetite effect. They can feel with warmth to the person not only, and can increase dinner interests. Bright color table cloth helps us improve the mood of meals.
Fresh colors help cool feeling summer.
Though orange helps appetite, when it's used in summer, we may feel hot. When you choose the colors of tablecloth, you could match it according to the changed seasons and the household colors. If the furniture around is in dark color, light color table cloth is better. For instance, fresh green seems much cool in hot summer. In a word, coordinate colors as a whole is necessary.
Embroidered tablecloth on a round table.
If your dining table is round, unfold a large tablecloth with embroidered edge at the bottom on the table first. Then unfold a small piece of tablecloth on the larger one, which helps look splendid and elegant. If the tablecloth color is dark, it will make your dining room calm. What's more, dark color will refuse most of dirt in life.
Generous pattern on quadrate table cloth.
If your dining room is quadrate, unfold a square tablecloth first, then a smaller squared one on again. Try to make the right angle align at the central line of the table. In this way, there will be good-looking triangle as hem. The pattern should be elegant and generous, do not use in only one or two colors. That will help your table natural and warm.
Table runner on a rectangle table
Table runner can be used on solid color tablecloth. It's also coordinated with similar designs of table cloth on table.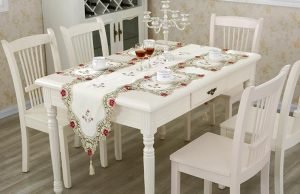 Anyway, the selection of your tablecloth decoration depends on your own favor.
Above is the author's individual viewpoint only.