We think you may learn something about Keqiao fabric markets from the article that we wrote before as "SHAOXING KEQIAO TEXTILE FABRIC MARKET GUIDE".And you may be very interested in coming and seeing by yourself.So this article, we are going to present the transportation guide to you on how to arrive in Keqiao!
As Keqiao(柯桥)belongs to Shaoxing city,which is now a district of Shaoxing,before was a county, there is still no airport yet in Keqiao or Shaoxing city, but luckily, Keqiao is very near Hangzhou airport, which is also commonly named as Hangzhou Xiaoshan Airport, it is about only 26 kilometers. Very convenient, it takes around only 30 to 40 minutes by car or bus.All you have to do to is to make your flight land at Hangzhou.Of course, maybe you could also consider arriving at Shanghai Airport if the ticket price favors you there.But the top choice is Hangzhou airport if you are the first time in China.So we will use two routes to explain about it
Route 1#: to reach Hangzhou Airport
Since currently there are not so many international flights can arrive at Hangzhou airport directly, so customers usually transit from these several famous airports in China, they are mainly Guangzhou airport, Kunming Airport.Guangzhou airport is commonly named as Guangzhou Baiyun airport, the biggest airport transit center. There are many flights going all the way.From Guangzhou Airport to Hangzhou Airport, takes around 2 hours to arrive, from Kunming to Hangzhou, takes around 3 hours to 4 hours, which is depending on the airlines.
After arriving in Hangzhou airport,you face two options to get to Keqiao, the most economical way is to take a shuttle bus, it cost you only 20RMB(about USD3), it will take you to the Keqiao.Every one hour, there will be a shuttle bus to depart, the earliest time is 8:10 in the morning, the last bus time of the day is 21:20 in the night.Secondly, you could also take a taxi, it will cost you around 100RM to 150RMB(about USD20 to USD25),be sure to run the meter by taxi, because some taxi drivers just want to charge you high price and deliver you to the place you want to go.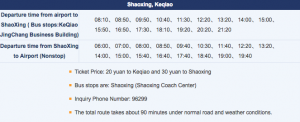 Route 2#: to reach Shanghai Airport
       As to the Shanghai Airport, there are two, one is Pudong international airport, which is the biggest one, a lot of international airlines to different countries, you could greatly be able to buy the ticket directly to there, the second airport name is Hongqiao international airport.If you buy the ticket from Guangzhou or Kunming airport to reach Shanghai, we would recommend you the Hongqiao Airport, because it is rather near to the Hongqiao railway station(虹桥火车站), which is only 5 minutes of the journey by subway.Because from Shanghai to Keqiao, We would strongly recommend you to take the bullet train, very fast and comfortable, experience it, you would love the way.you just buy a ticket from Shanghai Hongqiao railway station to Shaoxing north railway station and enjoy your 1 and half an hour trip. be sure to go to the ticket booth to buy your tickets and show them your passport. If you can not catch the train or run out of train ticket, you could only take a bus from Shanghai South bus station(上海南站)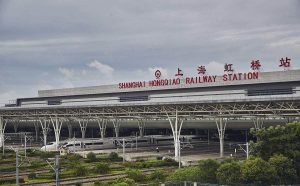 You may say what can I do if my flight lands at Pudong international airport and want to go to take a bullet train. Then you could take a subway line No.2, it will take you around 90 minutes to reach there. Of course, there is also the shuttle bus and to the railway station.
Here are some glance of the train No.and departure time for your reference as an example